An LGBTQ flag was burned at an elementary school in California earlier this month ahead of a Pride event, and police are investigating the incident as a hate crime, authorities said.
Someone broke into Saticoy Elementary School in North Hollywood during the weekend that preceded May 22 and burned the flag, according to the Los Angeles Unified School District.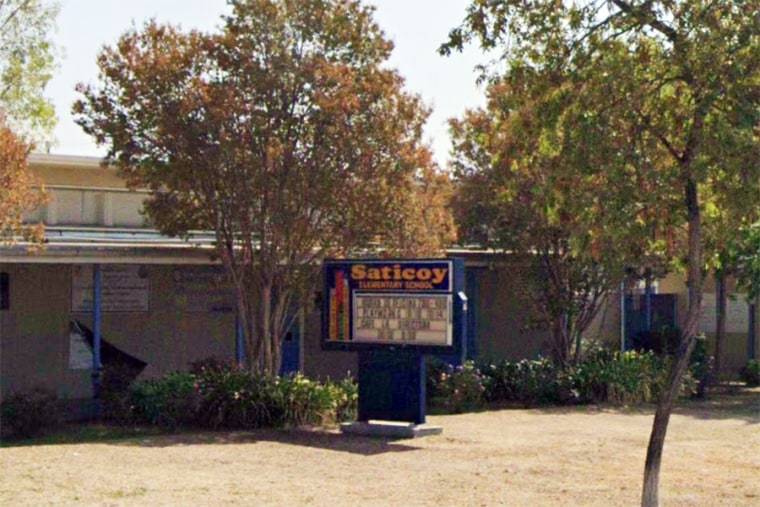 A spokesperson for Los Angeles Police said Wednesday the incident is being investigated as a "vandalism hate crime."
Alan Hamilton, a deputy chief with the LAPD's Valley Bureau, said in a statement Wednesday that the Pride flag was in a potted plant.
"There was a small potted plant that was set on fire on the campus and the plant had a small (4 x 6 inch) PRIDE flag inside the potted plant container. Both the plant and the flag were destroyed by the fire," he said.
"There are no suspects in custody at this time," Hamilton added.
Los Angeles School Police will be providing additional patrols around the campus, according to a statement from the school system.
The incident remains an "active investigation" by the Los Angeles Police Department, according to the school system.
Renato Lira, director of the San Fernando Valley LGBTQ Center, said there is a Pride Day assembly at the school scheduled for Friday and that the organization is working with school and Los Angeles police to make sure students "are going to be safe going to school and when they're leaving the campus."
June is Pride Month dedicated to recognizing the accomplishments and historical discrimination faced by lesbian, gay, bisexual and transgender communities.
Lira also said, "We are really concerned, we wanted to make sure the kids are safe during the time they're inside the school. We are working on this around the clock. We are keeping an eye on social, even communicating with the school district and the LAPD. We have meetings every day."
NBC Los Angeles reported some parents are planning to keep their children home from school Friday, the day of the Pride event.
The news outlet also reported a flyer was posted on a social media account named @Saticoyelementaryparents. The account encouraged parents to keep their kids home and to "Protest against Pride Day assembly, an inappropriate topic for our kids!"
The account was created earlier this month after parents saw a rainbow parade assembly noted on the school calendar, NBC Los Angeles reported.
The district shared a message to Saticoy families on May 22.
"I'm calling to inform you that we experienced a break-in over the weekend at Saticoy Elementary that resulted in vandalism and is being investigated as a hate-motivated incident. We are cooperating with law enforcement. This is a reminder that we rely on our entire school community to keep our school safe and secure by reporting any suspicious activity on campus after hours. If you see something, say something, the message said.
"Los Angeles Unified is committed to creating a safe and inclusive learning environment that embraces the diversity of the communities we serve. The District encourages everyone in our school communities to treat each other with respect, kindness and compassion so that our students can be empowered to achieve their greatest potential," the message continued.
Hate crimes in the U.S. increased by 11.6% in 2021 from the previous year, according to revised figures released by the FBI in March.
The statistics showed that 12,411 people were reported to have been victims of hate crimes in 2021, 64.5% of them targeted because of their race or ethnicity, 15.9% targeted for their sexual orientation and 14.1% for their religion. The reports were up from 8,120 in 2020 to 9,065 in 2021 — some crimes had multiple victims.
In 2020, reports of hate crimes increased by less than 3% from the previous year