The owner of Houston's only lesbian bar says her business is in jeopardy after it was denied insurance coverage, and she's putting the blame, in part, on an anti-drag bill moving through the Texas Legislature.
"They outright denied us, the underwriters, because we host drag shows," Julie Mabry, the owner of Pearl Bar, said in an interview with NBC affiliate KPRC of Houston.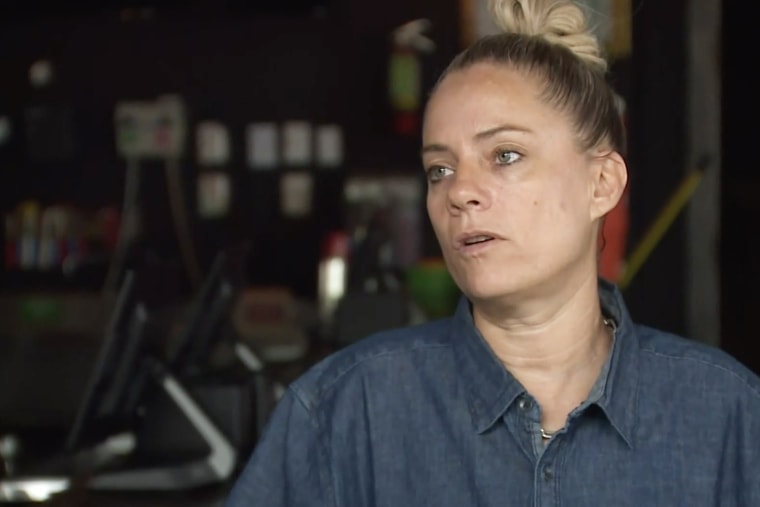 Mabry has insurance through December, but she decided to switch agents a few months ago and shop around for a new policy, she told KPRC. It was during that process that her agent received the denial email, which the agent then sent to Mabry.
"This is the first time I've ever gotten an email like that. I cried about this for about a week," said Mabry, who told KPRC that drag shows were the first thing mentioned in the email, which outlined why the underwriter did not want to take on the risk of insuring her bar.
Mabry did not share additional details about the underwriter or the email, and she did not immediately respond to NBC News' request for comment.
Mabry, who opened Pearl Bar in 2013, said the current political climate fueled the situation she's in, and she encouraged followers of the Pearl Bar Instagram account to contact their legislators about anti-LGBTQ bills in the state, including one that would restrict drag shows on public property, on the premises of a commercial enterprise or in the presence of a child.
The bill, Senate Bill 12, passed in the Texas Senate last month by a vote of 20-11, and it was set to be considered by a House committee Thursday. If the measure is signed into law, violators could be subjected to civil penalties of up to $10,000.
"Pearl needs everyone to speak up for us so that we can stay open and HOST DRAG SHOWS! It's THAT serious," a post on the Pearl Bar Instagram account said. "We are in the final stretch of session and every voice counts in pushing back on this and the other anti-LGBTQ legislation. We need you to step up, be loud, and tell your legislators NO to any anti-LGBTQ+ bills. Our state should be open to all, period."
State Sen. Bryan Hughes, the bill's author, did not immediately respond to a request for comment.
Brad Pritchett, a Houston resident and the field director for LGBTQ advocacy group Equality Texas, noted that drag shows are still legal in Texas and said Pearl Bar's situation is a result of the "fear and panic that lawmakers have stirred up" around the centuries-old art form.
"This situation highlights one of the most insidious consequences of all the anti-LGBTQ+ bills in the legislature this session—most people don't know what's going on," he said in an email. "It's ludicrous to think that lawmakers can shut down an entire industry without even changing the law. Texans, we need you to show up to the capitol, to email your legislators, and to make a lot of noise about what is happening in Texas."
Texas is one of at least 16 states where legislators have proposed bills this year seeking to restrict the audiences for drag performances and where they can take place. Tennessee is the only state to have enacted such a law, which a federal judge temporarily blocked from taking effect.
Bills seeking to restrict drag shows are part of a larger trend of Republican-led bills targeting LGBTQ people in the U.S. So far this year, more than 470 such bills have been proposed in legislatures across the U.S., according to the American Civil Liberties Union.
Pearl Bar is one of about two dozen lesbian bars left in the U.S. and one of only two in Texas, the other being Sue Ellen's in Dallas. Mabry hopes Texas will not be left with just a lone lesbian bar.
"This situation is real," she wrote on Instagram. "I've tried to be as careful as I can to keep my patrons, performers, and staff safe, but if we stay quiet, we aren't helping."