Authorities in Plano, Texas, are investigating what they call "an intentionally set fire" at a Unitarian Universalist church Sunday, just weeks after it was targeted for criticism in a video by an anti-LGBTQ Christian YouTuber.
A passerby spotted flames coming from the Community Unitarian Universalist Church early Sunday, Plano Fire-Rescue said in a statement. The fire was around the front door and was extinguished quickly, causing no injuries, it said.
The department is leading the criminal investigation into the fire, with the city's police department working on its own investigation, authorities told NBC News.
The church called the incident "a firebomb attack" in a statement on its Facebook page, saying "an incendiary device with a chemical accelerant was thrown or placed at the front doors of the main church building."
It also referred to the visit from right-wing content creator Bo Alford, who goes by "bodittle" on social media, less than a month earlier.
"Church officials have been reviewing building security and working with the Plano Police Department since the intrusion of a hate group in the church building during and after Worship Service on Sunday, June 25. That group has posted video of their activities inside the church on various social media sites."
Church board member Jodie Zoeller Bloom confirmed that the statement referred to Alford's video, titled "We acted LGBT at LGBT Church," which he uploaded to YouTube on July 12.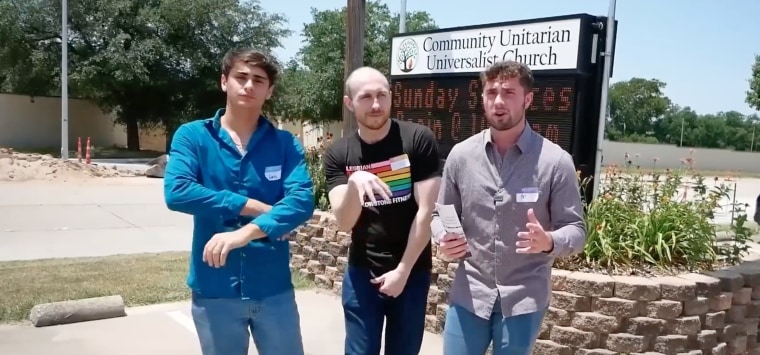 In the video, Alford, fellow YouTuber Cassady Campbell and another man film themselves visiting the Plano church. They ask the congregation about their beliefs while in their words, "pretending to be LGBTQ" with the goal of "testing" the church's theology and exposing "false teachers." 
At the end of the video, which has been viewed more than 200,000 times, the men stand by the church sign and ask viewers to "pray for these people," calling the church "pagan and satanic."
In an email, Alford said, "First and foremost, my prayers go out to anyone effected by the fire. As to the accusations, My channel spreads the message of Jesus and his love for us. If you watch the video you will see the members of the church having nothing but nice things to say about us. She enjoyed our conversation and even ended it with a hug. The fact we are being labeled as a hate group and being tied to this fire in any way is appalling."
In his social media bios, Alford describes himself as, "Believer Of Christ YouTuber/ Boxer/Pro Lib Troller." His videos often feature him and his friends "pranking" politically and socially liberal Americans, particularly focusing on members of the LGBTQ community.
Authorities have not suggested any connection between Alford's visit and subsequent video and the church fire. Plano police told the Dallas Morning News on Sunday that the department "cannot confirm" the fire "as a hate crime" at this time, though the investigation is ongoing.