Same-sex marriage is prohibited in Navajo Nation — but a new measure under consideration this fall aims to change that.
In June, Navajo Nation Council Delegate Seth Damon introduced legislation to repeal parts of a 2005 tribal law, the Diné Marriage Act, which outlawed same sex-marriages.
Although same-sex marriages are legal in the U.S., the Navajo Nation has sovereignty to pass its own laws governing its citizens. Tribal members can still get a marriage license in one of the three states that the reservation spans — Arizona, New Mexico and Utah — but the tribe does not recognize those unions.
That means Navajo citizens in same-sex relationships may lack equal protections, including health benefits for their spouses, Damon said.
"If there's a better life that we as policymakers can make for our people and if this is one of them — to create better harmony, better initiatives and better responsibility as a government — then why are we not pushing for this?" Damon said.
The legislation would allow Navajo Nation citizens to get a marriage license through the tribe and require the tribal government to recognize same-sex marriage licenses from states. It would not change traditional Navajo wedding ceremonies, which will remain only between a man and a woman.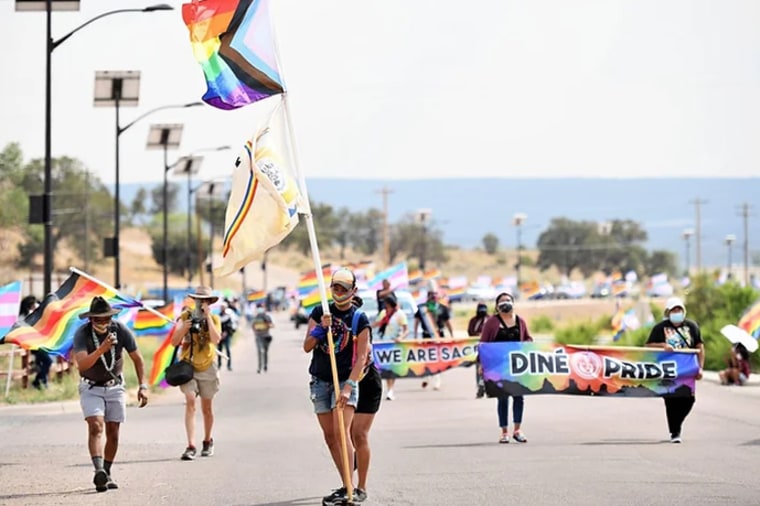 The legislation faces a final committee vote on Sept. 28. If it passes, it will head to the full tribal council's 24 delegates in the fall session, which begins in October.
The tribe's 2005 ban followed a similar measure in 2004 in the Cherokee Nation. The two tribal nations are the largest in the country.
But since then, there has been a policy shift in tribal governments across the country, including several tribes that recognized same-sex marriage before the U.S. Supreme Court legalized it in 2015. The Cherokee Nation's attorney general overturned its law banning same-sex marriages in 2016, and dozens more tribal governmentsnow recognize such marriage.
Now, as political attacks on LGBTQ people and pushback against efforts for equality are mounting across the country, some Navajo Nation citizens say it is more important than ever for their tribe to pass protections for a vulnerable population.  
"There's some people in politics that are pushing toward anti-gay agendas, and so I feel pretty scared for my own well-being and my partner's well-being," said Misty Garcia-Sandoval, 21, a citizen of the tribe and a student at Fort Lewis College in Durango, Colorado. Garcia-Sandoval is in a same-sex relationship, and she wants to return to the reservation with her partner after they graduate, to work on health care access.
"Will that put a target on our back?" she said. "And if so, are we able to go back to our home reservations and be protected?"
Navajo Nation President Buu Nygren supports the legislation, a spokesperson said in a statement to NBC News. It's received a mixed response in committee hearings, with more delegates voting in favor than against.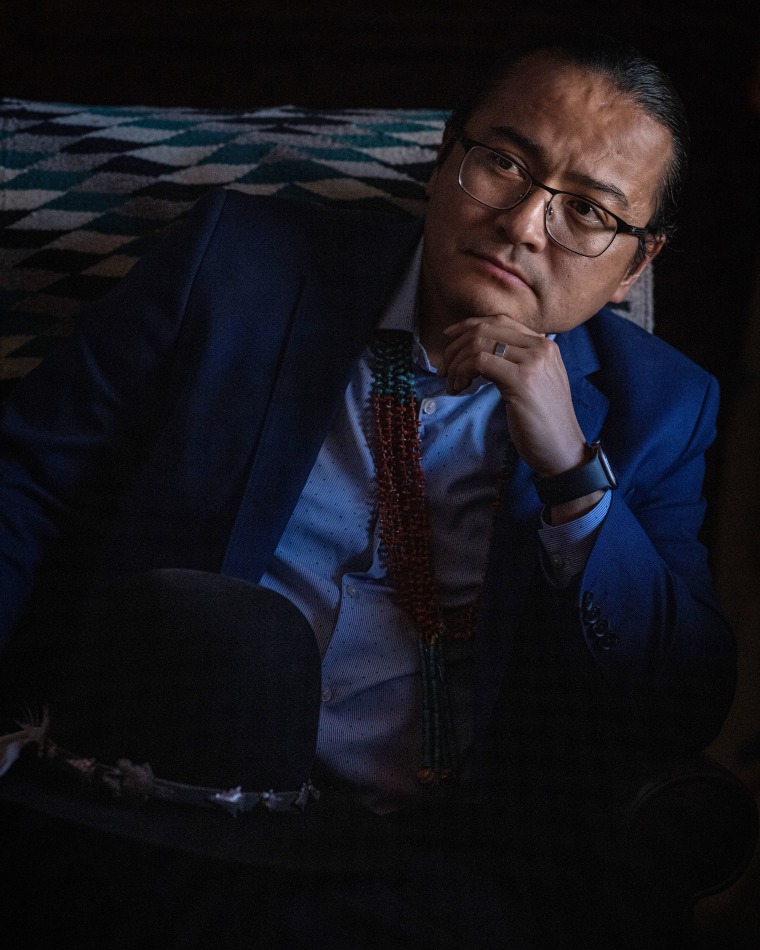 "This is a public health issue. And we just have so many young people who don't believe that they have a future on the reservation," said Carl Slater, a council delegate who voted for the measure. "They feel that they're not accepted by their government, that they can't continue to live here and be who they are."
Similar legislation was introduced last year but faced opposition from some tribal citizens and delegates who were concerned it would alter tradition or require medicine people to perform ceremonies that violated their traditions.
Damon acknowledged that some medicine people remain concerned about the repeal, but he said the legislation would not force anyone to perform same-sex marriage ceremonies.
In a 2016 report on women and gender violence, the Navajo Nation Human Rights Commission highlighted this tension, which drove the debate over the Diné Marriage Act in 2005.
"The traditional perspectives that Navajo marriage can only be between a man and women is absolute," the report states, noting that this "has been practiced since time immemorial."
The report also highlighted people in traditional Navajo stories who identified as genders other than male and female — a fact that many advocates for same-sex marriage point out — as well as the testimony from several tribal citizens describing anti-LGBTQ discrimination.
After growing up on the reservation, Garcia-Sandoval said she understands the importance of culture and tradition. But she also recognizes that the world she lives in is in many ways different from that of her ancestors.
"I think people are scared to move from tradition because times are changing," she said. "There's some traditional lessons that can be adjusted or should be adjusted, so that there is equality for everyone in our communities."