Washington married couple Jennifer and Sarah Hart, both 38, and at least three of their adopted children were found dead March 26 after their SUV plummeted down a 100-foot cliff on the Mendocino coast. Three other children were missing and believed dead.
The speedometer indicated the vehicle was traveling at 90 mph when it crashed, and there were no skid marks, Mendocino County Sheriff Tom Allman said at a news conference last week. No one was wearing a seatbelt.
Greg Baarts, acting assistant chief for the northern division of the California Highway Patrol, cautioned that the speedometer could have been affected by the crash, and the speed of the car hasn't been conclusively determined.
"We do have reason to believe, however, that the crash was intentional," Baarts told local NBC affiliate KGW8-TV Saturday. He did not elaborate. "This is all based on preliminary information," he added.
A preliminary investigation indicates the crash was an "intentional act," a CHP representative told Portland's KOIN6-TV. Evidence shows the car came to a halt before the cliff, then sped for the edge, the station reported.
Police searched the Hart home in Woodland, Washington, on Thursday. The application for the search warrant said a felony had been committed, and Baarts confirmed to KGW8: "It is safe to report that a felony may have been committed in this case." He offered no details.
Baarts said computers, bank records and credit card statements were removed from the family home. Chickens and a cat were also collected.
Allman said there was "every indication" all six of the couple's children were in the car. The bodies of Markis, 19, and Jeremiah and Abigail, both 14, were recovered after the crash, along with the bodies of their parents.
Sierra, 12, Devonte, 15, and Hannah, 15, have not been found.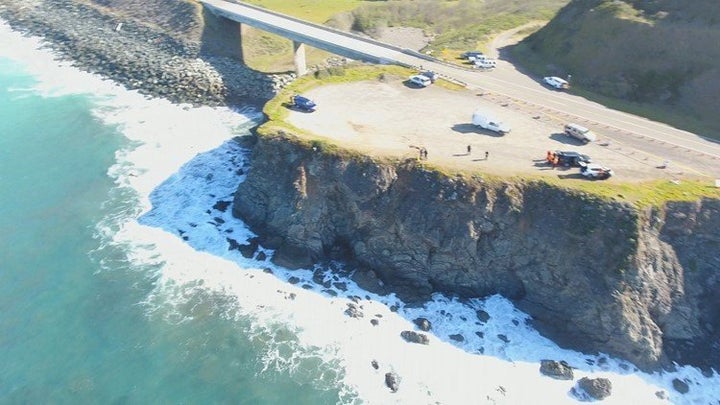 There were recent indications of trouble with the family. Neighbors Bruce and Donna Dekalb told CBS News they called child protective services after Devonte Hart knocked on their door last month for food and told them that he was being "starved to death." They also said a daughter, Hannah, came to them and asked not to be sent back home.
Washington state child protective services opened an investigation on March 23, the day the Dekalbs called the agency. Caseworkers said three attempts to contact the family since had failed.