On a riotous Instagram profile featuring pole-dancing, cross-dressing and fierce makeup, a picture of Ivan Honzyk in high heels and stockings next to an image of him in military uniform has gotten the most likes by far.
The junior sergeant's posts are a bold statement in socially conservative Ukraine, where pride parades were often attacked before the war and swaths of the country are occupied by forces loyal to Russia, one of the world's most conspicuously homophobic states.
But as more members of the LGTBQ community fight on the front lines, the greater visibility of gay and lesbian military personnel appears to be a catalyst for acceptance in wider society, and opinion polls show attitudes are changing.
Honzyk, 27, said his uncompromising self-expression, combined with his work in places like Bakhmut — the city in eastern Ukraine that has seen some of the bloodiest battles of the war, while serving as a potent symbol of the country's defiance — is helping to further the cause of LGBTQ rights in the country faster than any pride marches could.
"My fellow soldiers are really impressed with what I've done in Bakhmut, the massive scale of work that I did there, and after that they just don't care about who I sleep with," Honzyk, whose medical unit evacuates wounded soldiers and provides emergency first aid, said in a hip café in Ukraine's capital, Kyiv, while on leave from the front line.
Plenty of other gay and lesbian soldiers have also posted photos and videos of themselves online, some sporting unicorn insignia on their uniform, the mythical creature an ironic riposte to the idea that there are no LGBTQ people in the military.
In the U.S., lesbian, gay and bisexual people were allowed to serve openly in the military only in late 2011. Ukraine's armed forces did not have rules preventing the LGTBQ community from serving, but homophobia was rife in the ranks, reflecting a more widespread societal attitude.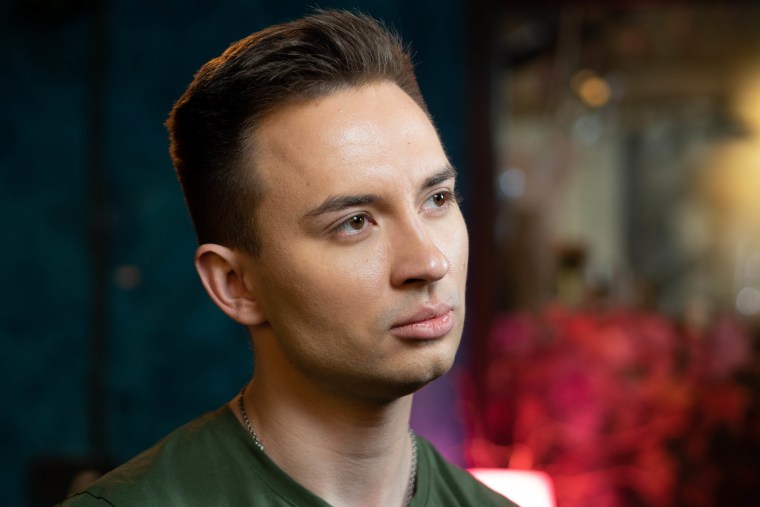 But in apparent recognition of their services, Ukrainian lawmakers recently tabled draft legislation that would recognize same-sex relationships and address the lack of inheritance, medical and other rights for the partners of LGTBQ soldiers killed or wounded fighting pro-Moscow forces.
"The parades and pride events were not enough," said Honzyk, who has served for four years. "The better way to change attitudes is what we're doing now. We entered the military and we're showing that we're worthy. We're not hiding somewhere at the back. We're doing real missions, dangerous missions."
LGBTQ 'propaganda'
Across the border, President Vladimir Putin has maintained that he launched the invasion in February 2022 to protect Russian-speaking people in Ukraine's east, while attempting to frame what he calls the "special military operation" as a defense of morality against un-Russian liberal values promoted by the West.
Putin has frequently espoused "traditional values" in his speeches and framed gender-transition surgery and same-sex parenting as morally degenerate Western imports. In December he signed a law expanding Russia's restrictions on promoting what it calls "gay propaganda," in effective outlawing any public expression of LGBTQ behavior in Russia.
Any action considered an attempt to promote homosexuality in public; online; or in films, books or advertising could incur a heavy fine.
Activists like Edward Reese, 37, a nonbinary communications officer with KyivPride, said Russia's invasion had sharpened Ukraine's sense of its own distinct identity and caused many of his countrymen to show more empathy toward their LGBTQ compatriots.
"People see that homophobia, transphobia, sexism, racism are Russian values," he said. "People understand that they don't want to have anything in common with Russia. So that's why they start to rethink their own homophobia here in Ukraine."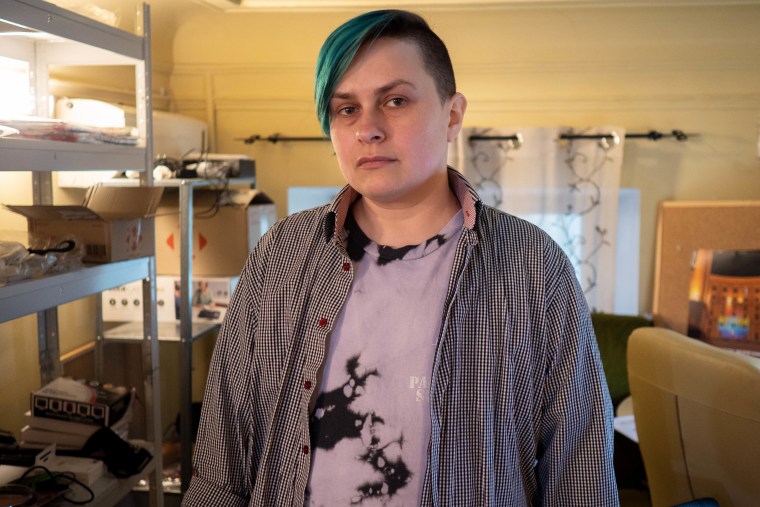 Reese said he had a tough upbringing and was sent for so-called conversion therapy by religious parents who followed the Ukrainian branch of the Russian Orthodox Church.
The church has been outspoken against LGBTQ people, and last year its leader, Patriarch Kirill of Moscow, said the "sin" of gay pride parades justified the war in Ukraine.
But his influence and that of his church has plummeted in recent years in Ukraine. In 2019 the Orthodox Church of Ukraine split from its Russian counterpart.
Kyiv has since accused Russian Orthodox priests of spying for Moscow, charges they deny.
"Ukrainian civil society is trying to kick out the Russian Orthodox Church, and they are the most anti-gay people in Ukraine," said LGBTQ activist Maksim Mishkin, 40, speaking at KyivPride's offices.
"Today most religious people in Ukraine are either positive or neutral towards us."
Somebody to hate
Away from the battlefield, LGBTQ groups in Ukraine and abroad have helped evacuate and house people displaced by the fighting and raise money for the military.
Mishkin said he had held fundraisers to send care packages to serving personnel, the appreciative soldiers sending back photos of themselves brandishing coffee mugs and other items featuring LGBTQ-affiliated logos.
Such efforts may have contributed to growing acceptance in Ukraine.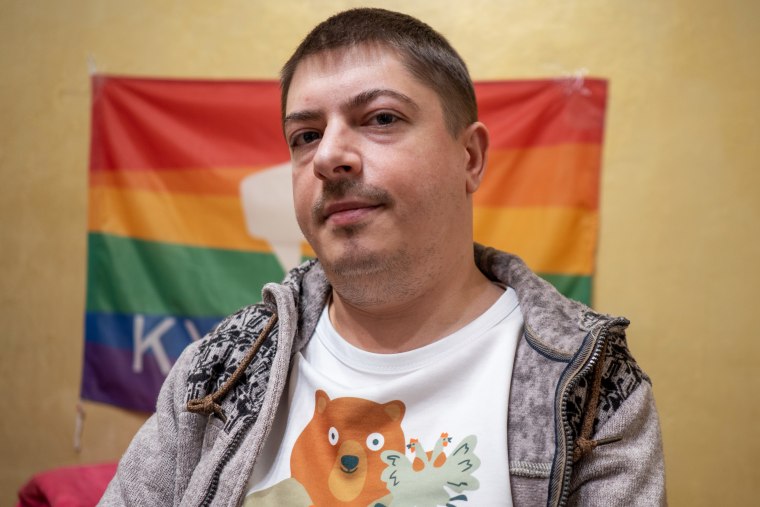 A January survey by the U.S.-based National Democratic Institute, a nonprofit, nongovernmental organization that works to increase the effectiveness of democratic institutions in developing countries, found that 58% of Ukrainian respondents agreed that LGBTQ "people should have the same rights as others."
That contrasts with a 2016 survey by the Kyiv International Institute of Sociology that showed 60.4% of respondents viewed LGBTQ people negatively. Last year a similar poll found that percentage had shrunk to 38.2%.
Ukrainian politician Inna Sovsun hopes to harness the positive momentum to pass a draft bill she introduced in parliament last month recognizing same-sex relationships.
"When a person in uniform says, 'Look, I have a loved one. If I am killed in action protecting this country, protecting every single one of you, my partner will not be able to make decisions about where to bury me because there is no legal connection between us,' that is something that society cannot say no to, because they are in uniform and risking their lives every single minute for us," she said.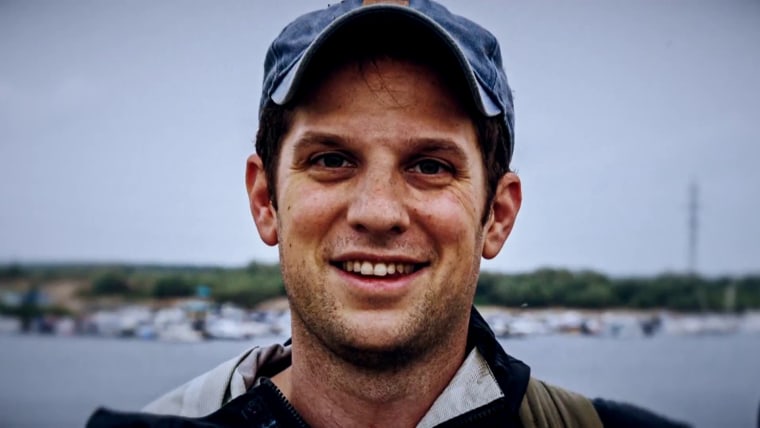 APRIL 12, 202301:27
"Right now it's not just the right thing to do, it's also the politically smart thing to do, because the majority of Ukrainians actually support it," she added.
However, she cautioned that the level of support for LGBTQ rights in Ukraine can be overstated.
Outside of the country's main metropolitan centers, life for LGBTQ people can be difficult, she said, adding that not all LGBTQ military personnel were accepted by their peers and some had been bullied.
For Honzyk, life's too short to worry about the haters before he heads back to the front line.
"If you accept yourself, then the world will accept you too. You need to remember a lot of people are wearing masks, but you shouldn't do that because you have only one life, and any day a missile may kill you," he said.
"Don't care about what other people say, because they'll always find somebody to hate."