The space for China's LGBTQ community just got even smaller.
Founded in 2008, the Beijing LGBT Center had played a prominent role in combating prejudice against sexual and gender minorities in China. On May 15, four days after its 15th anniversary and two days before the International Day Against Homophobia, Biphobia and Transphobia, the center said on its official WeChat account that it was closing because of "force majeure," which in China often refers to being shut down by the government.
"We were all shocked by the news," said Marry Yang, a volunteer at the center. "It's quite sudden. Most people don't know what happened."
It is not clear whether the closing of the Beijing LGBT Center, which declined a request for comment, was ordered by officials. The publicity department for Beijing's Chaoyang district, where the center was, said it was not aware of the situation.
Considered the biggest and most well-established LGBTQ organization in China, the center, also known as Beitong, gave sexual and gender minorities a sense of belonging, supporters said.
"It's quite shocking because I thought the Beijing LGBT Center has a very perfect policy with all kinds of support," Yang said. "But even so, they still shut down."
Jinghua Qian, a Chinese Australian writer who worked as a journalist in China from 2016 to 2018, said the center's closure was "a huge loss for not only the LGBTIQ+ community in China but for the world."
"We will be poorer for it," Qian told NBC News via email. "We will know less, we will understand less, about people and ideas that are quite crucial to understanding China today."
Shrinking safe spaces
The center's closing comes as officials are trying to increase the birth rate to address demographic concerns in China, which reported its first population decline in decades this year and is being overtaken by India as the world's most populous nation.
"LGBTQ+ is viewed as a malign foreign influence that is stopping youth from getting married and having children by the Chinese government," said Darius Longarino, a senior fellow at the Paul Tsai China Center at Yale Law School who focuses on LGBTQ rights.
Although homosexuality is legal in China and major cities can have thriving LGBTQ social scenes, same-sex marriage and adoption are not allowed and LGBTQ people are not legally protected against discrimination.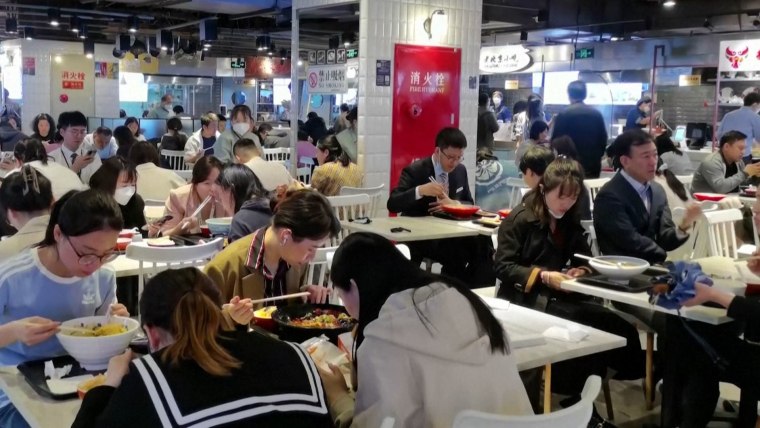 LGBTQ people in China say their safe spaces have been squeezed under President Xi Jinping, who has overseen a crackdown on advocacy groups since coming to power a decade ago. The pressure has only intensified under a 2017 law that increased regulation of international nongovernmental organizations, said Stephanie Wang, an assistant professor at St. Lawrence University in New York state who has researched LGBTQ rights in China.
In 2019, Chengdu Milk LGBT Service Center announced that it would cease operations. In 2020, Shanghai Pride, which held China's only major annual LGBTQ celebration, said it was suspending all activities after 11 years in existence. LGBT Rights Advocacy China, which had led major legal cases, shut down the following year, months after dozens of LGBTQ accounts run by university students were deleted from the WeChat social media platform.
There has also been an increase in government censorship, including a ban on "effeminate" men on TV as well as shows about close male relationships known as "boys' love" dramas. Last year, an LGBTQ storyline was removed from a version of the American sitcom "Friends" being streamed on the Chinese mainland.
Harvey Zhu, 24, a university student in Beijing who had participated in Beijing LGBT Center activities, said the center's closing was part of an "irresistible trend" in China.
I know that queers & feminists in China know how to work a loophole, a cat door, a hairline fracture, a whisper, a metaphor, but soon that's too subtle and quiet to reach the people who need it. A secret handshake can't replace a lighthouse."
JINGHUA QIAN, CHINESE AUSTRALIAN WRITER
"You don't feel surprised because you've actually expected it," he said.
Qian, the Chinese Australian writer, nonetheless expressed disappointment and alarm. 
"It's evidence of how much the government has turned on queer and feminist organizations as enemies of the state, where in the past the relationship between NGOs [nongovernmental organizations] and the state was rocky but occasionally collegial as well," said Qian, who uses gender-neutral pronouns.
Earlier, after hearing about the closure, they wrote on Twitter that "it just feels so utterly hopeless. I know that queers & feminists in China know how to work a loophole, a cat door, a hairline fracture, a whisper, a metaphor, but soon that's too subtle and quiet to reach the people who need it. A secret handshake can't replace a lighthouse."
'Homophobic social norms'
Zhu and others say conservative cultural values often keep them from sharing their identities with others.
"I haven't told my parents about my sexuality because I'm afraid it's not traditionally acceptable to them," he said. "Although China is becoming more open to us now, it's still difficult for sexual minorities to work in state organizations as rights-bearing officials because of traditional homophobic social norms."
"Because you can't just be open about your sexuality in there, you don't know what that would entail," he added.
Zhu sees a brighter future for sexual and gender minorities in China, albeit one that will take time to appear.
"Right now the upper echelons of the country's leadership are still conservative older generations," he said. "But I believe that in another decade or so when more open-minded people take up the role of policymakers, things will change."
That makes organizations like the Beijing LGBT Center all the more important in the meantime, said Will Hai, founder of a queer group in the Chinese city of Changsha.
"It is especially obvious during the holidays," Hai said, when single people returning to their hometowns face questions from family members about why they haven't married and had children.
"I can see that straight people seem to be happy to go home for the [Lunar] New Year or something, but the LGBT group feels very depressed and suffocated," he said.
"In this case, it is definitely important to have an organization for this kind of public discussion."
Hai said he wanted to make his organization as meaningful as the Beijing LGBT Center.
"On the other hand, I can't make it too meaningful," he said, "because if it is too meaningful it will be censored."