Florida Gov. Ron DeSantis signed into law Monday a bill restricting how race and gender can be taught in Florida's public higher education institutions and banning them from using state or federal funding for diversity programs.
At a ceremony at the New College of Florida in Sarasota, DeSantis signed three bills that he said would give students foundational skills and prevent people from imposing orthodoxies at public universities. It marked an escalation of a broader conservative effort to limit the ways schools can teach about issues of diversity, equity and inclusion.
Referring to the initialism for "diversity, equity and inclusion," DeSantis said: "If you look at the way this has actually been implemented across the country, DEI is better viewed as standing for 'discrimination, exclusion and indoctrination,' and that has no place in our public institutions. This bill says the whole experiment with DEI is coming to an end in the state of Florida."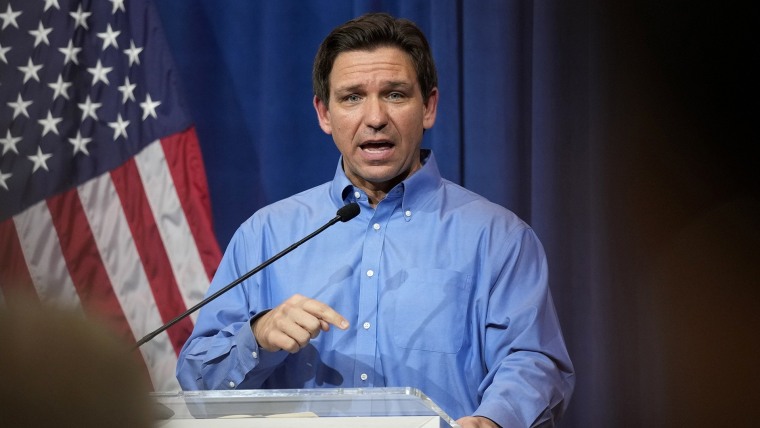 MAY 15, 202301:59
Critics, however, say the measures, particularly Senate Bill 266, censor teachers and will make it harder to attract and support diverse populations at Florida's schools. Andrew Gothard, the president of United Faculty of Florida, a union of faculty at Florida's public universities, called the bill "authoritarian censorship" in a statement sent to NBC News.
"We believe in the free exchange of all ideas, and we reject efforts to control what students get to learn and what professors have the right to teach," Gothard said.
A spokesperson for DeSantis referred a request for comment to the governor's news conference.
Senate Bill 266, which passed the Legislature this month, will prohibit state colleges and universities from using state or federal funds for programs that promote activism or advocate for diversity, equity and inclusion.
The bill also augments the study of Western civilization, directing universities, whenever applicable, to provide instruction about the history and philosophy of Western civilization, particularly the nation's founding documents. It requires that humanities courses include selections from the Western canon.
The bill bans general education core courses that "distort" historical events or teach "identity politics." It requires the Board of Governors, the strong majority of whose members DeSantis appoints, to review every institution's mission and make updates or revisions as it deems necessary. The board must include in its review a directive on university programs that are "based on theories that systemic racism, sexism, oppression, and privilege are inherent in the institutions of the United States and were created to maintain social, political, and economic inequities."
Brandon Wolf, the press secretary for Equality Florida, an anti-discrimination organization, said the bill represented a "war on academic freedom."
"From the podium today, he encouraged students that value academic freedom to look for educational opportunities elsewhere, cementing him as a governor who would rather drive away good talent than miss an opportunity to generate content for his right-wing acolytes," Wolf said of DeSantis.
DeSantis also signed House Bill 931, which will prevent universities from requiring prospective students or faculty members to pledge loyalty to any "ideology or movement," including to diversity, equity and inclusion.
Taken together, the three bills devote millions of dollars to civic and workforce education efforts. The laws will go into effect July 1. Protesters chanted in opposition to DeSantis as he signed the bills, according to local news reports.
New College, where DeSantis signed the measures, had been considered a progressive institution before he installed conservative allies on the board of trustees.