Democratic presidential candidate Julián Castro went to Mexico to meet with migrants seeking U.S. asylum who are now required to stay south of the border under the Trump administration's Migration Protection Protocols, also known as the Remain in Mexico policy.
As President Donald Trump pushed forward new restrictions on immigrants seeking visas to the United States, Castro visited a refugee encampment in Matamoros, Mexico, just across the border from Brownsville in deep South Texas. He planned specifically to meet with people with disabilities or who are LGBTQ, and also planned to cross the bridge with migrants to help them petition for asylum.
"There are thousands of migrants who are suffering because of Trump's Remain in Mexico policy. They are being kidnapped, extorted and subjected to violence. I want to speak out particularly for the most vulnerable, migrants with disability and migrants who are LGBTQ. They've been particularly hurt by this policy," he told NBC News in a phone interview before crossing the border.
"If I'm elected, I'll end this policy immediately," Castro said. He has said he'd do so through an executive order.
His campaign posted on social media photos of him meeting with migrants and said one woman had been in Matomoros for months with her children who she said had high fevers. Another woman he met is deaf.
In a tweet, the campaign said several cases of migrants who are supposed to be exempt from the Remain in Mexico policy were being reviewed after Castro went with them to the international bridge and demanded to speak to Customs and Border Protection supervisors.
Sec. @JulianCastro brought 12 migrants across the bridge who are supposed to be exempt from the 'Remain in Mexico' policy.

He demanded to speak to supervisors at the CBP checkpoint and their cases are now being heard.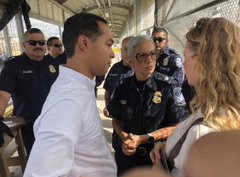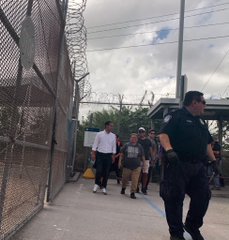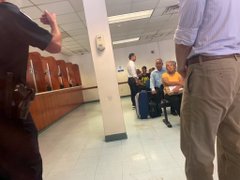 1809:50 AM – Oct 7, 2019Twitter Ads info and privacy88 people are talking about this
Castro said on social media he was invited by a staff member of the Texas Civil Rights Project to visit the encampment in Matamoros. Another posting showed him placing flowers at several white crosses inscribed with names on the Rio Grande.
Under Trump's policy, migrants must wait in Mexico in towns along the U.S. southern border while their asylum claims are considered. The policy almost completely cuts them off from legal assistance to navigate the asylum process. In addition, NBC News reported, the policy has led to more separations of families and subjected migrants to kidnapping, extortions and violence while they wait in Mexico.
Castro said migrants are supposed to be given opportunities to appeal being forced to remain in Mexico, but that exemption means "zero right now because the administration is not honoring it."
His visit follows Trump's announcement late Friday that legal immigrants would be denied visas if they could not prove they have health insurance or means to cover medical costs in the U.S. Castro had announced his trek to the border before the latest news emerged.
"This president uses migrants as a punching bag whenever he wants to rile up his base … Cruelty is his political lever and Americans of good conscience cannot allow him to make life worse for migrants simply so he can get more points," he said.
Previously migrants considered to have a credible fear of persecution if they returned to their countries were allowed to remain in the U.S. while their case moved through the court process.
Recommended
But as the number of people from Northern Triangle countries of Honduras, Guatemala and El Salvador seeking asylum at the border increased and court docket backlogs expanded, Trump ordered they be made to remain in Mexico.
In a June letter to acting DHS Secretary Kevin McAleenan, Rep. Raul Grijalva, D-Ariz., raised concerns about the danger that migrants face under the new policy and the higher standard it set for asylum seekers to be exempted from it.
Grijalva said that the policy creates health and safety concerns for vulnerable populations, especially the LGBTQ community.
According to Grijalva's letter, 83 percent of LGBTQ asylum-seekers and refugees from North Triangle countries who were interviewed by the U.N. High Commissioner for Refugees were victims of sexual and gender-based violence in their countries. Two-thirds reported sexual and gender-based violence in Mexico.
"Many of these individuals have been persecuted already where they are coming from," Castro said in the telephone interview. "They've struggled tremendously in their home countries and journeyed to the U.S., and now they are being victimized disproportionately in Mexico."
Castro was the first 2020 presidential candidate to roll out an immigration reform platform, which was the first policy proposal of his campaign. His proposal to make crossing the border without legal permission a civil violation rather than a criminal misdemeanor has drawn the most attention. Other candidates have since endorsed the idea and some have their own immigration proposals.
It is not illegal to seek asylum in the U.S. and many people had previously done so by crossing an international bridge connecting the U.S. and Mexico and requesting it at a port of entry. But the administration began limiting how many people could do that daily and in some places stopped it.
Along with ending the Remain in Mexico policy, Castro's plan calls for increasing access to legal assistance for asylum-seekers and reversing guidance issued by former Attorney General Jeff Sessions that prevented victims of domestic or gang violence from seeking asylum. A federal district judge in the District of Columbia has struck down that prohibition, but the ruling is being appealed in the D.C. Circuit Court.