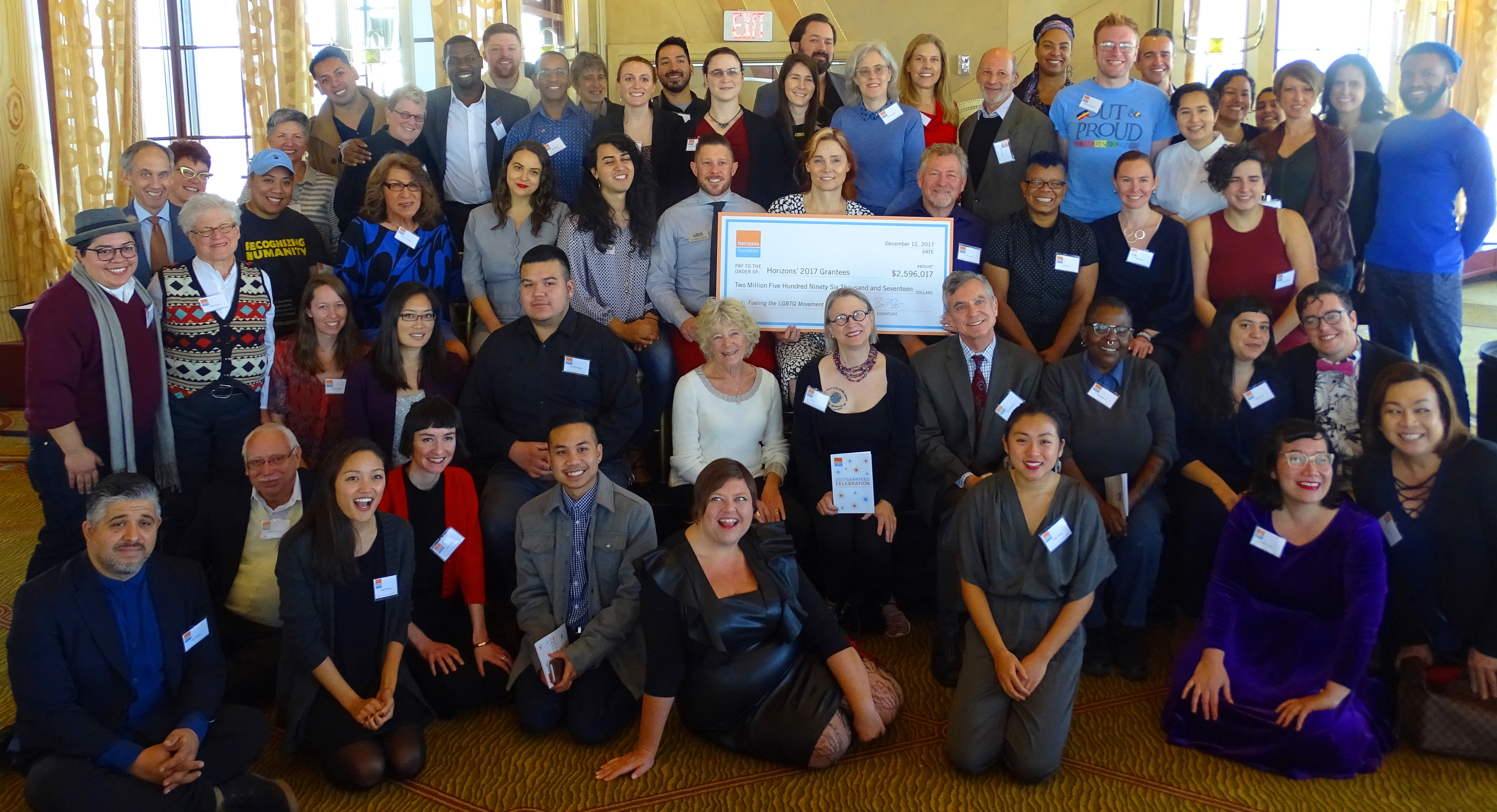 Horizons Foundation's 2017 slate of Community Issues grantees represent a diverse group of organizations and individuals serving nine Bay Area counties. Grants are being awarded in the arts, advocacy and civil rights, health and human services, community building, and leadership, and encompass programs that focus on youth, the elderly, immigration, trans rights, LGBTQ history, and capacity-building.
"The Community Issues grants have long been at the heart of Horizons' grantmaking," added Horizons President Roger Doughty. "It is always Horizons' honor to partner with some of the most effective, inspiring, and creative organizations, leaders, and activists in our community – and that is certainly true this year."
"Horizons' grantees are a reflection of the LGBT community perseverance and movement forward towards equality for all," stated Francisco Buchting, vice president of grants, programs, and strategic initiatives. "Each of our grantees, whether it is a small LGBTQ organizations or an LGBTQ program within a larger organization, do so much good throughout the nine SF Bay Area counties Horizons serves."
Recipients of Horizons Foundation's 2017 Community Issues Grants are:
Adolescent Counseling Services – Redwood City – Support for Outlet, a program that provides services, training, and leadership development in English and Spanish to LGBTQ youth
API Equality Northern California – San Francisco – Developing Asian Pacific Islander leadership and increase visibility of API LGBTQ in the Bay Area
Archive Productions – San Francisco – Free archival video services to LGBTQ nonprofits
Bay Area American Indian Two Spirits (BAAITS) – San Francisco – Programs to restore and recover the role of Two Spirit individuals in the American Indian/First Nation community
Bay Area Old Lesbians Organizing for Change (OLOC) – Oakland – Empowering Lesbians 60 and over through consciousness raising, social support, community building, and political action
Californians for Justice – San Jose – Elevating LGBTQ youth voices in advocating for positive school environments
Caminar (Family and Children Services of Silicon Valley) – Support for LGBTQ Youth Space, a hub of queer youth arts in the South Bay
Center for Sex and Culture – San Francisco – Providing non-judgmental, sex-positive sexuality education and support to diverse populations
Child Advocates of Silicon Valley – Milpitas – Recruitment, training, and support of Court Appointed Special Advocates who are specially trained to support LGBTQ foster youth in Santa Clara County
Chrysalis Printmaking Studio – San Francisco – Support for "Queer Ancestors Project", an annual 18-week workshop for LGBTQ artists between the age of 18-26
Colectivo Acción Latina de Ambiente – San Jose – Performance and community programs for Latinx LGBTQ people
Curry Senior Center – San Francisco – Technology education for LGBTQ elders
El/La Para TransLatinas – San Francisco – Direct services, referrals and advocacy efforts for TransLatinas
"From Baghdad to the Bay" – San Francisco – A feature-length documentary about a gay Iraqi refugee who ends up as a role model for the underground LGBTQ communities of the Arab world
GLBT Historical Society – San Francisco – Support to launch "History is Resistance" membership drive
HOMOBILES – San Francisco – Support for the LGBTQ car share service to provide free and low-cost options for members of the trans communities for medical visits related to their transition
Jewish Family and Community Services – Berkeley – Support for LGBTI asylum seekers and refugees
LGBTQ Black Immigrant Justice – Oakland – Support for the Volunteer Legal Representation Project
LYRIC – San Francisco – Increased giving support for their Grassroots Social Justice Fundraising Initiative, with the goal of increasing youth leadership capacity
Movimiento de Arte y Cultura Latino Americana – San Jose – Support for "We Can Be Heroes", an interactive theater production written by Bay Area Latinx LGBTQ writers
Oakland LGBTQ Community Center – Oakland – Oakland's first intergenerational, multi-ethnic, multi-generational, and multi-cultural LGBTQ community center
Oasis Legal Services – Oakland – Programs to provide quality legal immigration services to under-represented low-income groups from the LGBTQIA+ community.
On the Move – Napa/Sonoma – Support for LGBTQ Connection to expand services for LGBTQ youth in Napa and Sonoma and specific support for LGBTQ Latino youth
Pacific Center for Human Growth – Berkeley – Support for increased giving initiative targeting individual donors, the organization is focused on mental health issues in the LGBTQ community
Peacock Rebellion – San Francisco – Performance arts programs that promote social justice to LGBTQ communities of color
PRC – San Francisco – Support for data migration and integration of donor databases related to the ongoing merger of PRC, AIDS Emergency Fund, and Baker Places
Q Foundation (dba AIDS Housing Alliance) – San Francisco – Support for new donor initiative The Walk for Homelessness
Queer Cultural Center – San Francisco – Building community through the arts
Queer Rebels Productions – San Francisco – Asserting the presence and critical contributions of Queer people of color through innovative performance and productions
Rainbow Community Center of Contra Costa County – Concord/El Cerrito – Support to implement a comprehensive donor engagement strategy
RYSE Center – Richmond – Providing a safe space for LGBTQ youth and empowering LGBTQ people of color
San Francisco Trans March – San Francisco – Support for the annual march
Sojourn Chaplaincy – San Francisco – Implementation of a curriculum for Hospital and Hospice Spiritual Care providers around Transgender issues
Somos Familia – Oakland – Building intergenerational leadership to create environments for Latina/o/x LGBTQ youth and their families
Sunny Hills Services – Hayward – Support for Our Space program, supporting LGBTQ youth in the East Bay affected by poverty, homelessness, and the child welfare and juvenile justice systems
The Spahr Center – San Rafael – LGBTQ senior programming in Marin County with specific focus on leadership-building, health, and well-being of women
Tenderloin Museum (Uptown Tenderloin, Inc.) – San Francisco – Support for interactive play "Compton's Cafeteria Riot", chronicling the 1966 event that jumpstarted the LGBTQ equality movement
Theatre Rhinoceros – San Francisco – Support for the production and development of theater that speaks to the LGBTQ experience
Topsy Turvy Queer Circus – San Francisco – Multidisciplinary circus arts featuring queer artists of color
Women's Audio Mission – San Francisco – Support for LGBTQ Women of Color Artist Residency Program
Young Women's Freedom Center – San Francisco – Support for Queer on the Inside, a program that supports incarcerated young cis and trans women
Z Space – San Francisco – Support for world premiere interactive production "The Brother(s)" by Colman Domingo that brings the audience physically and emotionally closer to the trans and Filipino-American communities