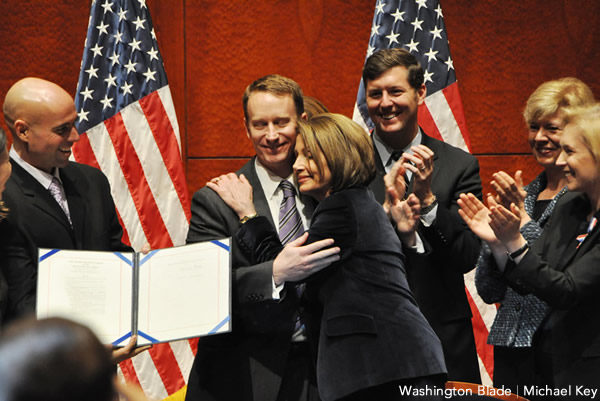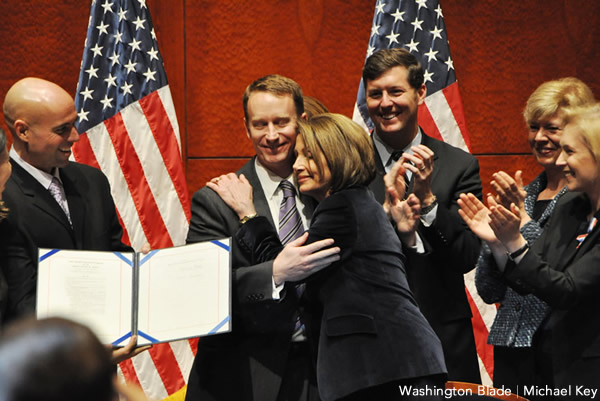 Last week, Nancy Pelosi (D-Calif.) became the first person in 64 years to return to the position of Speaker of the House of Representatives. She's the only woman to hold the office and the first person to repeat in the office since Sam Rayburn, who served a record 17 years as speaker over three different periods. She's now second in line to the president and is the highest-ranking elected woman in U.S. history.
Pelosi's credibility with LGBT voters is ironclad. In November, 102 LGBT leaders announced they "enthusiastically endorsed" her to return to the speakership. "There is no better ally to the LGBT community on Capitol Hill than Leader Pelosi, period," the group said in a statement.
Here are some highlights — some wonky and serious, some lighter. In no particular order:
• Pelosi has long stood in favor of same-sex marriage. In 1996, Pelosi voted against the Defense of Marriage Act, a federal law that prior to being ruled unconstitutional, defined marriage as one man and one woman. In 2004 and 2006, Pelosi voted against a proposed Federal Marriage Amendment that would have amended the Constitution to define marriage federally as one man, one woman. And in 2008, Pelosi voiced opposition to Proposition 8, a successful ballot initiative that defined California marriage similarly. Pelosi told the Washington Post in 2012 that her Roman Catholic faith — despite official church teaching — compels her "to be against discrimination of any kind in our country."
• Pelosi supported the Matthew Shepard & James Byrd Jr. Hate Crimes Prevention Act and helped it move through the House. It finally passed in 2009.
• Pelosi supported the "Don't Ask, Don't Tell" repeal in 2010. "Isn't this a joyful day," she said at the time. "(This measure will) change the law, improve the policy, make life better for many Americans and make our country stronger." She then led a group sing of "God Bless America."
• Pelosi is a champion of the Equality Act, comprehensive LGBT rights legislation that would amend the Civil Rights Act of 1964 to include sexual orientation and gender identity. She has said last October advancing it will be a top priority with Democrats in control of the House. "It isn't in our 'For The People' agenda because it doesn't get that specific, but there's one more because it's personal for me that I really want to do, and it's called the Equality Act," Pelosi said. "The Equality Act expands ending discrimination against LGBTQ people and women and adding that to the Civil Rights Act."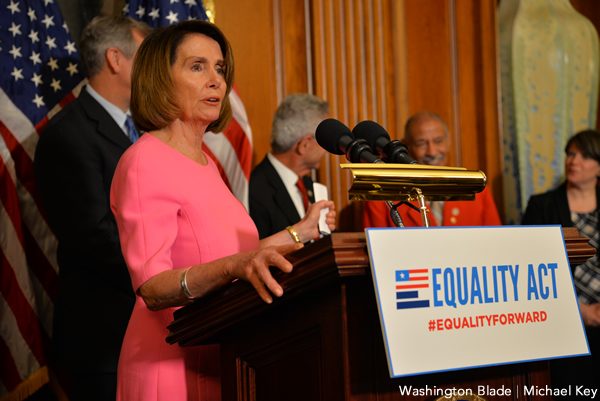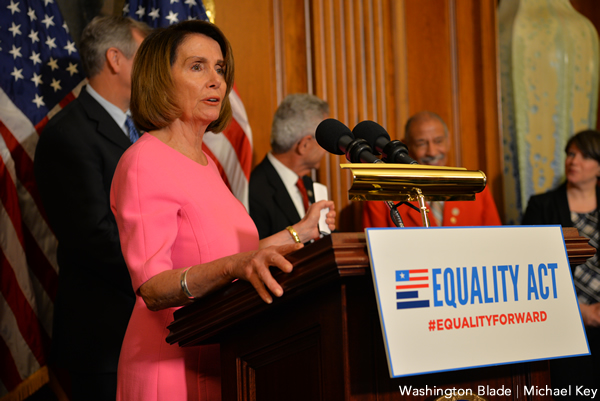 • In May, 2014 at the White House, Pelosi helped unveil an official U.S. forever postage stamp commemorating slain gay rights leader Harvey Milk, who was killed in 1978 and was the first openly gay public official in California. Pelosi is, as was Milk, a long-time San Francisco resident.
• In February, 2015, Pelosi met with Cuban LGBT activist Juana Mora Cedeno of Proyecto Manos along with other human rights advocates during a trip with several House colleagues. They discussed education, health care and lack of access to antiretroviral medication for Cubans living with HIV.
• Pelosi has appeared at many LGBT events over the years including a November, 2018 appearance at the NGLCC National Dinner, the 2007 HRC National Dinner, many appearances at San Francisco Pride (one year the car she was in broke down and she had to walk the rest of the parade route) and more.
• On June 9,1987, Pelosi chose to address the HIV/AIDS epidemic in her first speech on the House floor and said she had come to Congress to fight AIDS. "Now we must take leadership, of course, in the crisis of AIDS. And I look forward to working with you on that," Pelosi said. Those remarks stood in contrast to President Reagan's inaction and failure to speak out on the disease.
• Contestants on "RuPaul's Drag Race All Stars" season three were shocked when Pelosi made a brief appearance in the "werk" room of the hit reality competition show in March, 2018.  Ru introduced her as a "strong woman who knows how to get things done" and a "champion for LGBT rights."  Presumably because of time, Pelosi, unlike most "Drag Race" guest celebrities, did not appear at the judge's table. But she teased the appearance on social media saying she had "a fabulous time." "I'm honored to be here," Pelosi, wearing a white pantsuit, said. "You're an inspiration, I hope you know. Because you really know your power. It's about taking pride and that's what you do. Take pride in yourselves."
• When the NAMES Project AIDS Memorial Quilt was being developed, Pelosi took part in the some of the earliest meetings, sowing her own patch for a flower girl in her wedding who died of AIDS. Pelosi also secured permits from the National Park Service under the George H.W. Bush administration so the AIDS quilt could be shown on the National Mall.  In April, 2012, Pelosi spoke at a Castro District ceremony marking the 25th anniversary of the Names Project AIDS Memorial Quilt, started by San Francisco volunteers in 1987. "We will keep fighting until there is a cure," she said.
• In August 2016, Pelosi met with survivors of Orlando's Pulse nightclub shooting and families of some of the 49 who died. She left flowers at a memorial outside the club and signed a wall.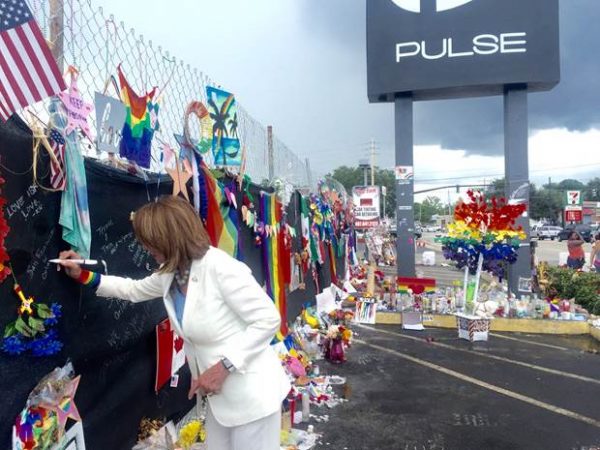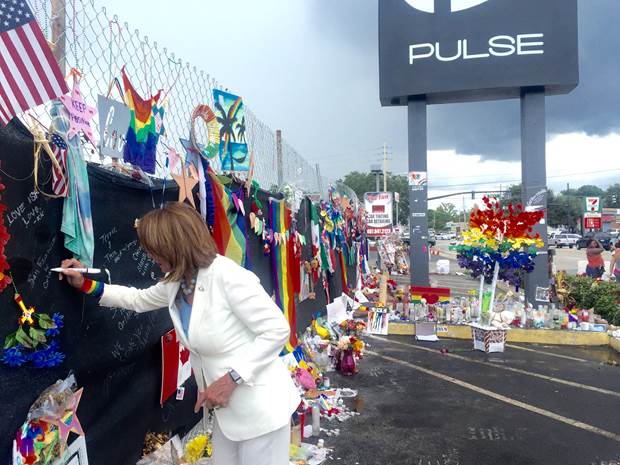 • In July 2012, Pelosi danced to ZZ Top's "Sharp Dressed Man" and "It's Raining Men" at the reception for former U.S. Rep. Barney Frank's marriage to Jim Ready. Pelosi's partner was Terry Bean, a co-best man of the groom. Video of the dance went viral.