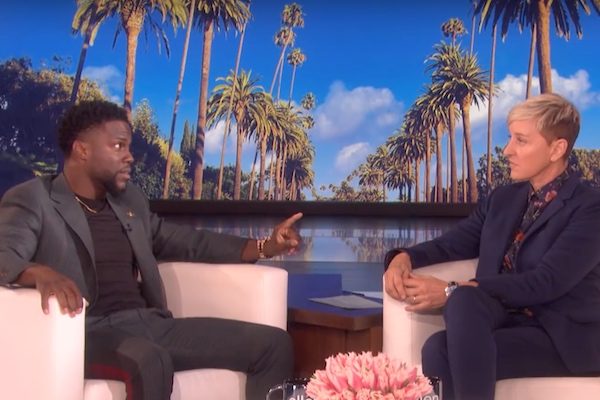 Ellen DeGeneres is facing backlash for supporting Kevin Hart and actively campaigning to have Hart host the Oscars.
Hart was tapped to host this year's Oscars but stepped down after old homophobic jokes and tweets resurfaced. DeGeneres invited Hart on "The Ellen DeGeneres Show" to talk about the fall out with the episode scheduled to air on Monday. However, DeGeneres and her producers was apparently so impressed by the interview that the episode aired on Friday instead.
In the interview, Hart explains that he has repeatedly apologized for the jokes, which were made 10 years ago, and viewed the situation as an attack on his character and an attempt to ruin his career. DeGeneres let Hart know that she fully supports him and even called the Academy on his behalf.
"I called them, I said, 'Kevin's on, I have no idea if he wants to come back and host, but what are your thoughts?' And they were like, 'Oh my God, we want him to host! We feel like that maybe he misunderstood or it was handled wrong. Maybe we said the wrong thing but we want him to host. Whatever we can do we would be thrilled. And he should host the Oscars,'" DeGeneres says.
She continued to explain that she thinks Hart has learned from his mistakes and deserves to come back as host.
"As a gay person, I am sensitive to all of that. You've already expressed that it's not being educated on the subject, not realizing how dangerous those words are, not realizing how many kids are killed for being gay or beaten up every day," DeGeneres says. "You have grown, you have apologized, you are apologizing again right now. You've done it. Don't let those people win — host the Oscars."
Some people criticized DeGeneres for labeling people who took issue with the jokes "haters" and "trolls." There were also people who didn't believe Hart was being genuine with his apology.
DeGeneres appeared to notice the backlash as she tweeted, "However you feel about this, the only positive way through it is to talk about it. Thank you for being here, @KevinHart4real. "