A report from Nicaragua indicates eight LGBTI people have been killed during anti-government protests that began in the Central American country last April.
The report notes a gay man was one of three people who were killed on April 19, 2018, the day after protests against the government of President Daniel Ortega and his wife, Vice President Rosario Murillo, began.
The report says a total of seven gay men and a lesbian woman were reported killed in Managua and Carazo departments between April 18, 2018, and Jan. 31, 2019. The report indicates five of these murders "were committed during the protests" and the bodies of three of the victims were found "many days after they disappeared."
"These three victims had been receiving death threats or had been injured," reads the report. "Two of them had denounced (these threats) on their social media networks or with close associates and one of them blamed members of Citizens Power Councils (local, pro-government entities that are similar to Cuba's Committees for the Defense of the Revolution) in her community for what happened to her."
Death threats, attacks against LGBTI Nicaraguans commonplace
The protests began after Ortega announced cuts to the country's social security benefits that he later rescinded. The government's response to a fire at the Indio Maíz Biological Reserve on Nicaragua's Caribbean coast in April 2018 also sparked widespread criticism.
Hundreds of people have been killed since the protests began.
The National LGBTIQ Roundtable of Nicaragua was one of the first organizations that urged the government to stop using violence against the protesters. The U.S. has imposed sanctions against Murillo, National Police Commissioner Francisco Javier Díaz Madriz and other Nicaraguan officials that include travel bans and frozen assets under the 2016 Global Magnitsky Human Rights Accountability Act.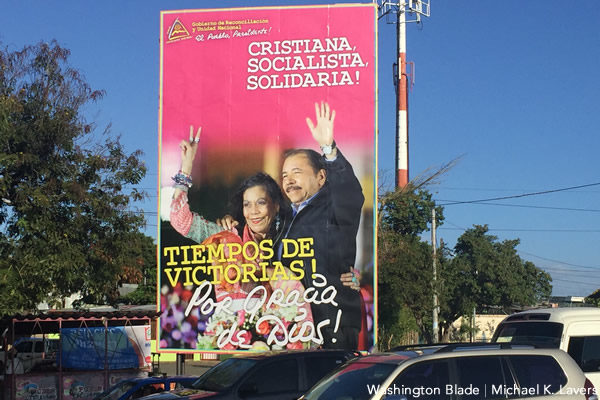 The report notes LGBTI people "have actively participated" in the protests since they began. It also includes findings of a survey to which 220 lesbian, gay, bisexual, transgender, queer and cross-dressing Nicaraguans responded that indicate the government and its supporters continue to target LGBTI people in the country.
More than 40 percent of survey respondents said they have received death threats.
The report notes 56 people who responded to the survey said they have been physically attacked, while 86 respondents said they have suffered "verbal aggression."
Seventy people said they were targeted on social media for "participating in protests, criticizing the government using different media or refusing to participate in pro-government activities." Nearly 20 percent of survey respondents said they have been arbitrarily detained.
The report notes 28 people who responded to the survey said their homes have been attacked. It also indicates 48 respondents have left Nicaragua, with 30 of them seeking exile in neighboring Costa Rica.
"The payment for these protests has been death, jail and exile," Ulises Rivas, a Nicaraguan environmental and gay rights activist who fled to Costa Rica, told Armando Trull, a contributor to the Washington Blade, last year during an interview in the Costa Rican capital of San José.
Rivas helped create Asociación Hijos del Arco Iris LGBTI, a group that helps LGBTI Nicaraguans who are in exile in Costa Rica. Trull last year also spoke with three gay Nicaraguans who have sought refuge in Barcelona.
The three gay men said they participated in the protests and provided food and water to the protesters. Justin, one of the gay men with whom Trull spoke, said he was "terrified that If I were to be arrested I would be tortured, raped, because that's what they do to gay people and then disappeared."
William Ramírez Cerda, a gay rights activist, was among the more than 200 people who were trapped inside a church in the Nicaraguan capital of Managua last July when government troops and paramilitary groups surrounded it. Ramírez told the Blade a student died after he was shot in the head during the siege that ended after Cardinal Leopoldo Brenes of the Archdiocese of Managua negotiated with Ortega's office.
A trans activist from Managua who attended an LGBTQ Victory Institute-sponsored conference in Honduras last fall told the Blade she keeps a low profile because many of her neighbors support the government. A gay activist from Chinandega, a city near the Nicaragua-Honduras border, who also participated in the gathering said he moved out of his house after the National Police stopped him several times.
"Many LGBTQ people since the crisis began (have been) victims of aggression just because they participated in peaceful protests alongside the rest of the population and demanded the full exercise of their rights," reads the report.