Last week two Black men, George Floyd and Tony McDade, were killed by police, leading to countless people protesting around the world in support of Black Lives Matter.
George Floyd died after a police officer pinned him down by the neck using his knee until he went limp. Tony McDade, a trans man, was shot and killed by officers while being chased in connection with a fatal stabbing.
For people of color – gay or straight, trans or cis – these stories, sadly, aren't unique. Frankly, they're commonplace. Black people have been dying at the hands of police in horrifying numbers for centuries – only now, the internet is being used to share these stories more widely than ever before.
The police violence being directed at those protesting racism in Minneapolis and in other cities around the world is, again, nothing new. The Black Lives Matter movement and associated groups have been organising protests against police brutality since the 2014 killing of Michael Brown Jr, an 18-year-old Black man shot dead by a white police officer.
Before that, Black people have been asking police to stop killing us for as long as there have been police. But all too often these efforts are welcomed with tear gas, rubber bullets and further violence. And at the end of it all, Black people are still being killed.
Just as the LGBT+ rights movement – which, it pays to remember, was spearheaded by Black trans women and butch lesbians – has been bolstered by straight-cis allies, and has furthered LGBT+ rights by winning over the straight cis (mostly) men who run our world, the Black community needs allies of all races to stand with us. Our voices, our bodies and our actions alone aren't enough – to affect change as quickly as possible, we need your help.
If you want to stand up and be counted, here is a non-exhaustive list of things you can do.
1. Call for accountability.
The most immediate thing allies can do is to sign petitions and contact political representatives to demand justice for both George Floyd and Tony McDade.
A petition calling for charges to be filed against all four officers involved in Floyd's death has so far attracted 10 million signatures. The officer who knelt on Floyd's neck has been charged with murder, but each additional name added will help build pressure for officials to take action against the other three.
A separate petition is simply calling for "Justice for Tony McDade", and at the time of publication has been signed more than 430,000 times. McDade's case is currently shrouded in uncertainties – signing his petition will help bring visibility and hopefully answers.
2. Protest.
If you feel safe doing so, consider joining a protest. Understandably not all queer people will be able to do this. If being in large groups and/or around police poses a danger to you, or if you are disabled and concerned about access/making a safe exit, do not feel compelled to protest. There are many lanes of resistance, and each of us can't occupy all of them.
If you want to protest, it's easy to find organised demonstrations through social media. Follow trusted Black organisers, protest with a buddy, and maintain social distancing. A widely-shared infographic has other good pieces of advice for protecting yourself.
3. Donate.
If you can afford to do so, there are many Black organisations that need funding at this critical time.
The Minnesota Freedom Fund – which, among other things, is working to free jailed protestors by paying bail and legal fees – has raised over $20 million in the past week and is now asking people to consider donating to other groups.
Its suggestions include the Black Visions Collective – a Black-led, queer and trans-centring organisation dedicated to Black liberation.
It also recommends people donate to Reclaim the Block, a coalition demanding that Minneapolis divest from policing and invest in long-term community alternatives, and the North Star Health Collective, which works with organisers to create safe and health events.
Further afield, there are local organisations working to free protestors across the US. The National Bail Fund Network is maintaining an updated thread of places where people can donate.

National Bail Fund Network@bailfundnetwork
Saturday THREAD – So much solidarity from coast to coast! This is an updated thread on bail funds supporting people arrested for demanding justice for George Floyd, Breonna Taylor, & all victims of police violence. 1/#FreeThemAll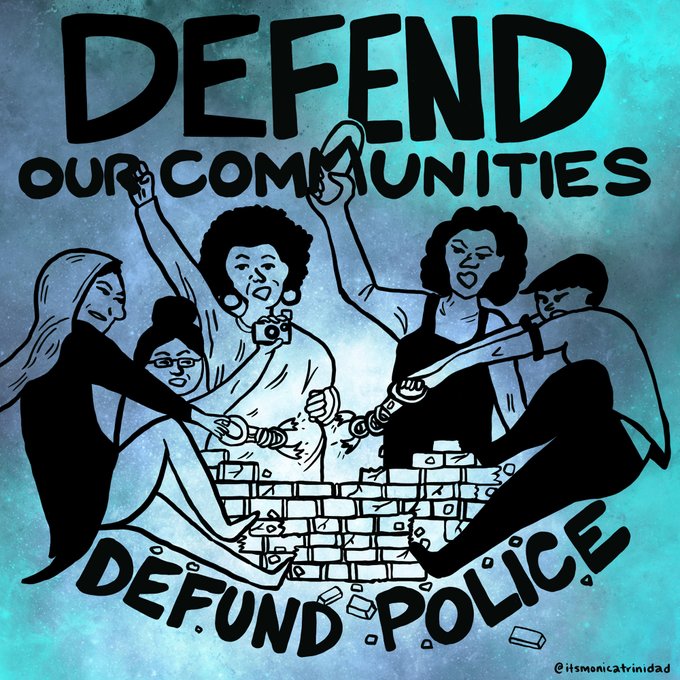 5,23108:56 – 30 May 2020Twitter Ads information and privacy4,043 people are talking about this
4. Educate yourself and others on being anti-racist.
Not being racist isn't enough. Now as much as ever, it's important to be vocally and actively against racism in all its forms.
If you aren't sure what this means, or aren't comfortable in your knowledge of these issues, take the time to educate yourself. Read books by Black authors, such as Why I'm No Longer Talking to White People About Race by Reni Eddo-Lodge, How to Be an Antiracist by Ibram X Kendi, or Back to Black by Kehinde Andrews.
Share what you learn with white friends, challenge them when you see or hear them making ill-informed statements, and further the conversation as much as you can.
5. Be mindful on social media.
As journalist Paula Akpan recently tweeted: "Being online right now as a Black person is f**king exhausting."
Be mindful of sharing videos showing violence against Black bodies without a proper warning. Be considerate in who and what you are retweeting. While racists must be held accountable, there are ways of doing this without amplifying their message of hate – by reporting them to social networks and/or, when appropriate, by informing their employers.
If you are unsure about what to share on social media, often the best thing to do is to amplify the voices of the oppressed – in this case, Black people. Retweet posts and share articles. It's fine to contribute your own words of course, but be mindful and open to constructive criticism. Above all, remember if you have a platform – even a small one – and want to make a difference, use it.
6. Check in on your queer Black friends.
Amid all of this, don't forget to keep in contact with your Black friends as you would at any other time. Remember that we won't always want to talk about race and racism, even when it is dominating topic in the media and online. When we do, be sure to listen more than you do speak, and try not to use us as a resource for your own development.
7. Keep the energy going.
Right now it's impossible to predict what the future will bring. But regardless, remember to remain committed to anti-racism. Whether the current protests beget sweeping change or whether the status quo returns, continue to make your voice heard, improve your own learning, and support Black people and Black causes.