Longtime GLBT Historical Society supporter and board member Lito Sandoval has been involved in LGBTQ advocacy work for over three decades. A Bay Area native, he has worked with organizations as varied as ACT UP, AGUILAS, and the Queer Latinx Social Club, which he founded.

To kickstart the New Year and celebrate Lito's final few months on our board, we sat down for a chat about his life and career.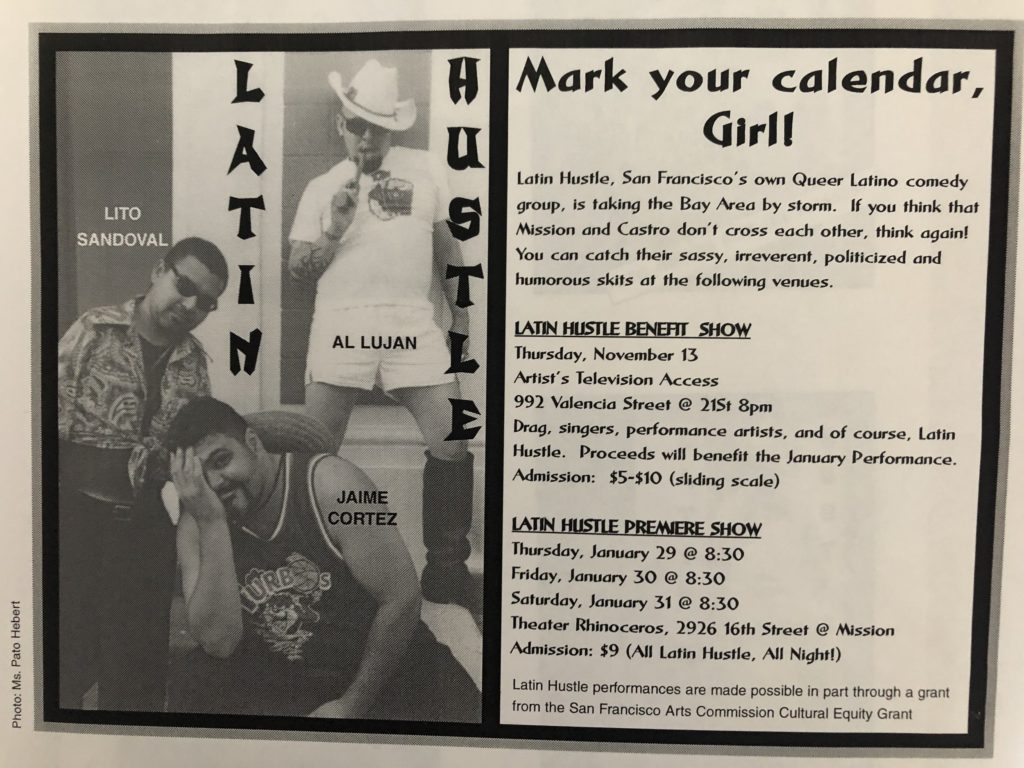 How did you get involved with HIV/AIDS activism?
LS: I moved to San Francisco in 1988, when the AIDS crisis was already full blown. To be honest, I wanted to get involved in queer social activities, and AIDS activism was basically queer activism at that time. A coworker had been involved in ACT UP and I came along to a meeting. There were a lot of politically active people of different ages, a lot of folks who came from antiwar activism and worked on abortion-rights activism. Then I went to a local issues committee meeting focused on San Francisco issues. At the second general meeting the recording secretary had to step down and my impulse to jump into things took over, so I was recording secretary for a few years.
One of the first actions that took place when I was a media spokesperson was when we did an event in Concord in the East Bay, where I grew up, protesting Louis Sheldon and the Traditional Values Coalition. The soundbite that made it on television was me declaring "It's, like, a human rights issue!" and I sounded like a valley girl! (Chuckles)
What was it like to be a young Latino man working in a prominent HIV/AIDS activist group?
LS: One of the things ACT UP did was control its image, and while historically people have seen it as predominantly white, they did like to make sure that when it came to spokespeople that there weren't just a lot of white men. I remember a Board of Supervisors-sanctioned rally at Duboce Park where I gave a speech making fun of the fact that it was a "sanctioned" event, the point being that we should protest whenever and however we wanted! That night at Esta Noche, a Latinx LGBTQ bar on 16th Street, a Latino guy who'd been at the rally came up and told me, "Thanks for speaking, it was nice to see someone other than white faces."
We definitely tried to keep things open and social justice oriented and inclusive. You were busy all the time, figuring out not just what or who to protest but also the messaging, trying to get the message across. But I don't think we reached communities of color very well, to be honest. ACT UP was conscious about its public image, but there were problems with tokenization. The People of Color Caucus, when I went, didn't really have people of color. It was me and the boyfriend of the white guy who hosted. It actually ended up being a front for the Revolutionary Communist Party (RCP). One of my regrets is not taking it back.
How did your work shift more toward working with people of color/Latinx people?
LS: The thing about my life is that I do stuff and move on; I mean, I was in a spoken-word workshop and ended up in a comedy trio! Things just evolved. After ACT UP, I was recruited to work as the political chair of AGUILAS, which was more of a social group, and that's when my work became more Latinx focused. When I was co-chair on the board the El Ambiente HIV prevention program began. Then there was Proyecto Contra SIDA Por Vida, which was more arts oriented, with arts and writing workshops. I went to some of their workshops and because of that ended up writing skits with other Proyecto workshop alums Jaime Cortez and Al Lujan. We ended up getting a grant from the San Francisco Arts Commission. And so my erstwhile comedy trio, "Latin Hustle," ended up with two sold-out runs at Theater Rhinoceros. We also took the show to L.A.
One thing I will say is that at the ACT UP memorial in 2015 commemorating 25 years since the 1990 AIDS Conference in San Francisco, I realized that at the time, we never allowed ourselves time to really grieve back then. We mourned the friends and allies that we lost, but it was such an intense time; you moved from this action to this action and the grieving process as a whole always got put on hold. So at the memorial, with the passage of time, a lot of intense feelings emerged.
NOTE: To learn more about ACT UP, check out the interviews in the ACT UP Oral History Project. Information about the AIDS treatment advocacy movement is available in this online exhibition.
---
Lito Sandoval is chair of the GLBT Historical Society Board of Directors. He works as a program manager with Notified and has served on many nonprofit boards in the Latino and LGBTQ communities. He is a former board member of the San Francisco Latino Democratic Club. He also founded the Queer Latinx Social Club.